Symbolism of the Precious Stones – St. Edward's Crown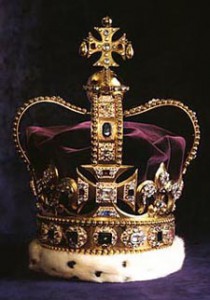 TOPAZ
Contains the color of the most precious stones, by which the King is to exercise all virtues.
EMERALD
(Smaragd) Justice.
SARDIUS
(Sardigne) Like red clay; though the King be the highest, yet he is but clay; in Heraldry this is the  Dragon's Tail of the planet.
CHRYSOLITE
Like Gold; The King to shine in wisdom and prudence.
CHALCEDONY
Strong; fortitude in the King.
HYACINTH
Like the Sun shining on water; temperance and sobriety.
JASPER
Grass Green; the King to provide plenty for his people.
CRISEOPALLA
(Chrysaprasus?) Gold and Green; wisdom and aspiration for Heavenly things.
BERYL
Green and pale; Heavenly contemplation.
SAPHIRE
Light Blue; continence.
AMETHYST
Purple and violet; discharging of regal functions and good savor.
SARDONYX
Black below, red in middle, white above, humbleness, charity and sincerity.