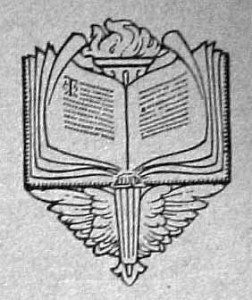 Don't be depressed
By Charles Nevers Holmes (1926)
When life's sunshine, bright and cheerful,
Suddenly is dim and drear,
When life's shadows lie around us,
And our smile becomes a tear,
When man's friendship fails and mocks us,
And all hope seems far away,
Let us dwell amid to-morrow
And forget our cares to-day.
For the day which is the darkest,
Soon shall pass, forever go,
Like a stormy cloud in summer,
Like the falling rain or snow;
Do not heed life's present worries,
Face the future, not the past,
And remember that our sorrows
Seldom linger, seldom last.
~~~~~~~~~~~
Let Us Always Do Our Best
By Charles Nevers Holmes
When our thoughts are cheerless, dreary,
And we feel forlorn, depressed,
When our very soul is weary,
Let us bravely do our best.
If good fortune grants us treasures
And a life of health and rest,
Let us not abuse its pleasures,
Lest we fail to do our best.
When life's noon is far behind us
And we walk amid the west,
Let the years of youth remind us,
We should always do our best.
And when we are homeward roaming
After life's hard toil and test,
Let us whisper in the gloaming,
"I have done my very best."
~~~~~~~~~~~
Sublime Lights
By Charles Nevers Holmes
The Holy Bible – Greatest Light, –
Whose precepts warn and bless,
Will guide our feet in paths aright
To truth and happiness.
The Square instructs us not to stray
From Virtue, pure and fair;
That we should walk her narrow way,
Within her watchful care.
The Compasses proclaim restraint
To those of mortal birth,
That in our lives there be no taint
And men respect our worth.
O Holy Bible – Greatest Light, –
O Compasses and Square,
Instruct our hearts in what is right
And guide us everywhere.
~~~~~~~~~~~
The Balance
By A. Geary Johnson
I fear not darkness,
For my soul still gropes in twilight;
I fear not light,
Since light was my soul's birthplace;
I fear not cold,
For I delight in coldness of Reason;
I fear not heat,
For my heart moves in warmth for
Humanity;
I fear not death,
For in death I find Immortality.
~~~~~~~~~~~
Cardinal Virtues
By Charles Nevers Holmes
In paths of Temperance we find
Restraint for body and for mind,
A virtue which enhances fame
And guards our lives from sin or shame.
By Fortitude we undergo
Pain peril, danger here below;
In Fortitude we each should share
The burdens which our brothers bear.
By Prudence we shall wisely guide
Our lives while we on earth abide;
In every one this virtue heeds,
It will prevent incautious deeds.
Impartial Justice, strict and true,
Accords to every man his due,
Without distinction anywhere;
It is unselfish, righteous, fair.
~~~~~~~~~~~
The Place Where We Abide
By Rose C. Kamper (1926)
There is no fog, there is no night,
For all is filled with golden Light,
Where you and I abide.
There are no tears, no parting sighs,
No sad and sorrowing good-byes,
Where you and I abide.
There are no sounds, no jarring notes,
No rasping voice from human throats,
Where you and I abide.
But there is peace and joy untold,
Where souls harmonically unfold,
Where you and I abide.
I find Love there where e'er I go,
And I am glad that I can know,
The place where we abide.
~~~~~~~~~~~
GET OUT OF THE RUT
"The world is full of ruts, my boy, some shallower and some deep;
And every rut is full of folds as high as they can heap.
Each one that's grovelin' in the ditch is growlin' at his fate,
And wishing he had got his chance before it was too late.
They lay it all on something else, or say 'twas just their luck;
They never could consider it 'twas just their lack of pluck.
Now here's the word o' one that's lived clean thru from soup to nuts –
The Lord don't send no derricks 'round to hoist folks out of ruts."
~~~~~~~~~~~
DON'T
Don't laugh at those who make mistakes,
And stumble on the way,
For you are apt to follow them
And almost any day.
Don't think the others shifting sand
While you are solid rock,
And don't forget for heaven's sake
That any fool can knock.
~~~~~~~~~~~