In the Hand of Dr. W. Wynn Westcott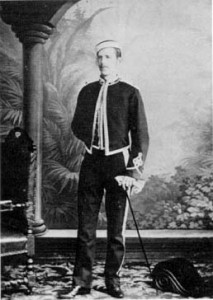 Samuel Liddell Mathers son of William M. Mathers, a commercial clerk; his mother was a Miss Collins. He was born at 11 De Beauvoir Place, Hackney on January 8, 1854. His father died early, and he lived some years with his widowed mother at Bournemouth until her death in 1885. He was initiated in the Hengist Lodge in 1877, but never became a Lodge Master. While at Bournemouth his studies were directed to mystic ideas by his acquaintance with Frederick Holland, a deep student of Hebrew philosophy. He was admitted to the Rosicrucian Society of England, and so became associated with Dr. Woodman the Magus of the Society and with Dr. Westcott, and pursuing his studies under their tuition he made considerable progress & proved so apt a pupil that he published a translation of Rosenroth's "Kabalah Denudata" a work which had run through several editions and gave him a recognised position in Occultism.
On the death of his mother, he was left in very poor circumstances, and removed to London where he lived in modest lodgings in Great Percy Street, Kings Cross, enjoying the hospitality of Dr. Westcott for many years. In 1890 he obtained the appointment of curator at the Museum of the late Mr. Frederick J. Horniman, M.P. at Forest Hill, which he subsequently gave to the nation: in 1891 he was dismissed on account of a personal quarrel. While there he became acquainted with a Miss Mina Bergson a fellow student of Mr. Horniman's daughter a talented young artist of the Slade School. He was married to Miss Bergson at Chacombe Church near Banbury by the Rev. W. A. Aytonn, who was himself a prominent mystic student and researcher into Alchemy and a member of many occult societies; after whose death his extensive library was purchased by F. Leigh Gardner the author of catalogues of Rosicrucian books, Astrological books and other works. Mr. Gardner published at his own expense Mather's edition of "The Sacred Magic of Abramelin the Mage". The late Mr. Redway published Mather's magical work entitled "The Key of Solomon the King".
To the Rosicrucian Society's Transactions he contributed essays on; The Deity in Hebrew Letters; Rosicrucian Symbols, and Rosicrucian Ancients and their Zodiacal Emblems. Became celebrant of the London College and for some years was Secretary to the Society.
In 1891 the Mathers removed to Paris where he made extensive literary researches at the Libraire d'Arsenal, an institution notable for its richness in occult literature, and at the Musee Guimet whence he derived much knowledge of Oriental, ancient mystic knowledge.
Mathers also published an English translation of a French Military Manual, an essay on the Tarot cards, and a volume of poems.
During his residence at Paris he adopted the Scottish motto of "S'Rioghail mo Dhream"- "Royal is my tribe", and declared his succession to the Jacobite title of Count of Glen Strae which he alleged had been given to his ancestor by King James the Second. He was popularly known in the district of Auteuil as "the mad Englishman".
Owing to limited means he lost in Paris much of his reputation as a bona-fide student and teacher, and resorted to questionable practices which did not find favour in the eyes of his previous pupils.
Mathers fell a victim to the wiles of Madame Horos and her husband, two adventurers who were soon after prosecuted and convicted in London of abominable offences. In Paris also Mathers assisted by his wife obtained an evanescent notoriety by an attempt to revive the worship of the Egyptian Goddess Isis.
A pupil and dear friend of Mathers was Mr. Aleister Crowley who subsequently quarrelled with and reviled his old teacher in several volumes of an eccentric periodical named "The Equinox". In this publication Crowley made public a great quantity of Ritual instruction which he had received under promise of secrecy; this procedure led to an action at law which however was never satisfactorily terminated.
During the last ten years the Mathers cult has lapsed into well merited obscurity and we hear that he died in Paris after a short illness.
His irregular life in Paris and his overweening vanity led to his being deserted by his friends and supporters.